Running a finance startup: The tech setup, what apps we use
In February I cofounded with a dear friend of mine a new (still in stealth) startup focused in finance. Since then we've achieved remarkable growth (101% in our total assets, 25% in a new fund in under three months, and more) which we wouldn't be able to if we had not streamlined our operations with a handful of great tools and web services.
I thought it'd be interesting to share our setup since it can benefit everyone who's doing a startup — not only finance ones.
Here's what we use.
Ransquawk
Bloomberg terminals are still quite expensive for us but for breaking news, market talk, current events and other impactful things, Ransquawk delivers. We do recommend.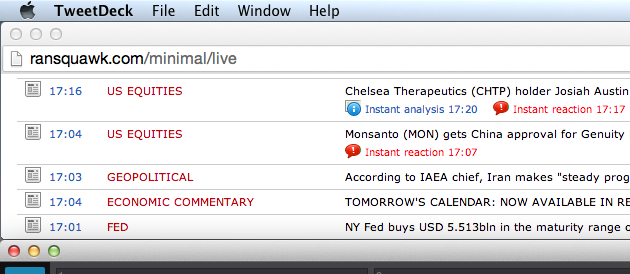 Twitter Lists and Tweetdeck
Additionally (and before we learned about Ransquawk) we have built our very own custom news desk using Twitter. Having curated several private lists ranging from finance media, reporters, and politicians to global, breaking news, hedge fund managers and newswires, we've essentially made our very own 24/7 news terminal running on 27″ monitors. Eyes wide open for news and market talk. We're using Tweetdeck as a Twitter client because it suits perfectly for this job.
See it in action here (Instagram video).
Hipchat
iMessages are good for casual chatting but when you scale to multiple devices and heavy usage they fail miserably. Messages are getting mixed up, there are delivery problems and general frustration. That's why we've switched over to Hipchat. Great tool featuring web, desktop, and mobile clients. There are a few problems (for example with Push notifications) but the overall experience (for such usage) is definitely not terrible compared to iMessages.
FaceTime and Skype
For breaking, important stuff FaceTime does the job because it's directly built within iOS and OS X; it always rings, you don't have to have the app running. Skype is perfectly fine for everything else. And since we're not based in the same country it's essential to have reliable and free communication. (Also now that I'm running the iOS 7 Beta and Skype doesn't work, FaceTime is awesome and saves the day.)
Mail.app's VIP feature
This is hands-down the greatest email feature everyone's built. Select a few selected people from your contacts list and you'll receive email notifications only from them. It makes you sane again from notifications overload and you can distinguish between an email's importance via the subject line directly from the lock screen.
Google Drive (ex-Docs), Calendar
Collaborative document editing is important for us and Google Docs, née "Drive", is extremely useful and easy to use through the web app. We use Calendar to schedule our Skype meetings in our iOS and OS X's Calendar clients.
Dropbox
Although we use Drive for collaborative document editing, we store all our files in Dropbox. Somehow it feels a lot more stable, robust and, well, better. Especially after the recent updates with instant public link generation. Totally love it.
News iPhone Apps
Bloomberg, Financial Times, Naftemporiki, StockTwits and Ransquawk are the iOS news-oriented apps we use. Bloomberg has a great iOS line-up with embedded live TV, news and more. Quite handy when using the iPad as an external monitor as a TV feed.
If you're in the finance industry what apps do you use and rely upon? I'd love to hear about them and find new ones. I hope this is a useful list for every startup in spite of niche — leave a comment if you think I missed something or you want to share something you use and is awesome for other startups.
posted: June 17, 2013
under: Software