Apple TV Review
I recently bought an Apple TV — possibly the best gadget I bought this year. Here's the review I wrote.
Introduction
It is not entirely known the difference a small piece of hardware with great software and design can make. On the other hand, one can argue it is; consider for example the iPhone, how it re-invented both the mobile industry and our daily mobile experience. Apple TV abides to the same principles but maybe has a much heavier impact on your home and entertainment. With a vast potential.
For those who don't already know, Apple TV is a small device — one of the most minimal I've ever seen — which connects with your home Wi-Fi and can stream media from your iTunes library(-ies), iOS devices through AirPlay, as well as mirror both OS X's (only available in Mountain Lion) and iOS desktops onto your TV.
Remember that home media center you always wanted to setup with that old PC running some obscure Linux distro? Yep. That's what Apple TV is for. Only better.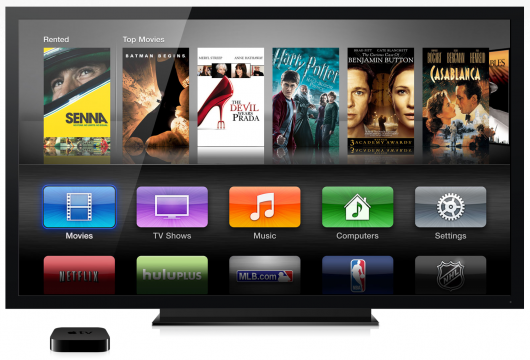 About Prices
Apple TV retails at $99 & €99. As far as I know the price varies in Europe depending on country and retailer. For example, here in Austria's MediaMarkt it's being sold for €99 but Apple's 3rd-party Premium Reseller retails it for €109 while in Greece's Plaisio it's €119. Go figure.
Europe's being weird once again. Anyhow, even if you find it for €119, do know it's — objectively — a good deal but comes with the downside knowing that you can, somewhere else, find it cheaper. If everything else fails and hope has abandoned you, you'll probably give the extra euros while cursing inside you those damned corporations who try to maximize their margins. Yeah, capitalism.
Hardware & Software
From an engineering perspective the Apple TV is truly a beautiful and remarkable device. With dimensions of 2.3cm height, 9.8cm width, 9.8cm depth and weighing only 0.2 Kgs you can safely say it's small and lightweight. It comes only in black and has only one visual power/standby/sleep indicator; a small white LED on the front panel. An embodiment of minimalism.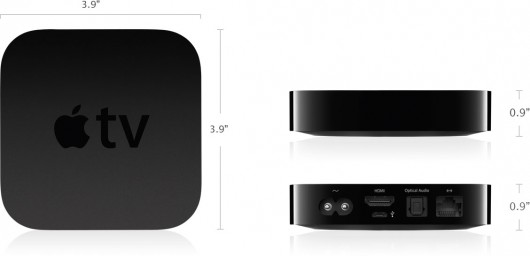 Apple TV runs a modified version of iOS on a single-core A5 chip (– yeah, single-core?) but is easily capable of full-HD 1080p and a 802.11a/b/g/n Wi-Fi adapter. It has one HDMI, optical audio, Ethernet and micro-USB port. For a full report on the hardware specs you can always visit apple.com/appletv.
Content
The first version of Apple TV was shipped with a 40GB HDD but the latest, current iteration comes disk-free. This is definitely not a problem or a limitation since everything can be streamed with great quality. Even live-streaming through AirPlay works great – I've tested it watching NFL live at 1080p. (Steelers at Giants, Steelers won. Pfft.)
Actually, the "disk-free" it's more of a blessing and not a problem. What happens when Apple TV's HHD is full? It's better to stream from TB disks in your iMac or PC and stack up space incrementally if needed (ie. external HDDs — they're also cheaper).
Apple TV has built-in support for Netflix (good thing if you live in US or UK or some other place in which Netflix is available and I'm not aware of), MLB.tv, NHL and NBA, YouTube, Vimeo, Apple Events (!) and iTunes Radio. It also supports iCloud: your Photo Stream and iTunes Match integration. Not bad, but maybe iTunes Match is a bit too much since you can stream your iTunes library — or any other iTunes library using your Home Sharing ID (read: Apple ID).
Of course, there is deep integration with the Movies Dept. of the iTunes Store. You can buy and rent SD, 720p and 1080p movies. I haven't tested it yet but from what I've understood there is not any major hassle involved. What unavailable is — and that's a bummer, personally — is the support for series and season passes. That's due to copyright and Greek iTunes Store limitations, and possibly applied to almost (?) every non-US account, too. The only thing we can do is wait until Hollywood will make a deal with Apple.
Aside the iTunes integration and its extremely easy media acquiring/sharing/streaming among devices, Apple TV supports other sources, too. More on that on the next part.
Do remember that this "iTunes/Apple TV integration" is not Mac-limited. It works exactly the same even if you use a PC; it only needs iTunes and a proper iTunes account.
Entertainment Center & Home Setup
Now, you've already read about the deep integration of iTunes and iTunes-based content, but what exactly happens when you, as most people do, have media outside of iTunes? That's where Plex comes into the equation and creates your media center for you.
Plex is a free app for Mac OS X, Windows, Linux, iOS, Android, Windows Phone and devices like Roku, Samsung + LG "Smart TVs", and Google TV. (There's also an Apple TV version if you jailbreak it. But there's -probably- no need to.)
What you do is install Plex on your Mac or PC and specify the folders which contain your movies and/or TV series. Then it scans those folders and displays the files in a very elegant and useful way on the desktop client after it matches them for proper metatags. It's not about ugly filenames anymore.
In the meantime download Plex for your iOS device and when the aforementioned process is done, you can stream everything onto your device. From there, just select AirPlay streaming and send the stream to your Apple TV. Voilá! Full HD movies on your TV, wirelessly.
You can do much more cool stuff with Plex — for a complete list just visit the Plex website.
If you do not own an iOS device, then, I think the only way to stream non-iTunes media to the Apple TV is by jailbreaking it.
Personally, this is the setup I use:
iMac always running Plex. Media in two folders; Movies & Series
iPad, streaming through AirPlay on-demand content, both iTunes and non-iTunes (with Plex), and from every app that supports AirPlay (eg. NFL, SKAI). Also AirPlay mirroring
Apple TV hooked on a Samsung TV receiving the AirPlay signal
Cool uses of AirPlay Mirroring: playing iPad games on TV. Fun.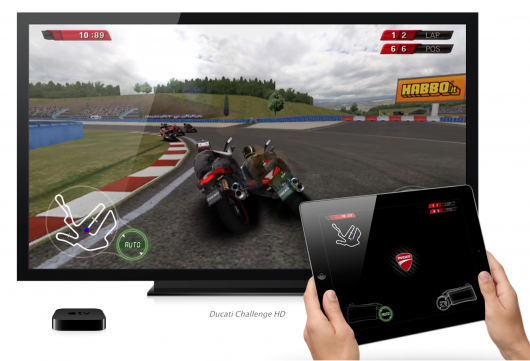 TV Potential
It is clear after a while to everyone that has ever used an Apple TV that this is how TVs should be made in the first place. And this Apple TV's true potential. Don't be tricked from Apple saying that ATV is "just a hobby" — I won't be surprised if in the next few years we'll see a 40″ Apple TV, integrating current features, as well as supporting normal TV channels and Apple making deals with major content providers (eg. HBO) for content integration. That can't be bad.
Conclusion
If you own a HD TV (and an iOS device), it's a great complimentary add-on gadget. It will revolutionize your home entertainment experience. For a $99/€99 it is a great deal, especially if you own lots of media and said TV. It's simply how home entertainment should've been in the first place, only better. Over and out.
posted: November 5, 2012
under: Reviews