How To: Integrate + Sync iCal, iCal.app & Google Calendar
Calendar OTA syncing to Google, Mac and iPhone can be painless. Seriously. Dive in, to find out how.
It's very easy to have a synced calendar over your Google Calendar, iCal and iPhone's iCal.app. The basic concept works if you use Google Calendar, otherwise you just have to sync your iCals via USB and iTunes.
But, you can also setup a Google Calendar to achieve OTA syncing for your Mac and iPhone. Nice, huh?
Just follow these quick and eath steps.
Setup Google Sync
In your iPhone open Settings > Mail, Contacts, Calendars, tap "Add Account" and select Microsoft Exhange. In the next screen enter your account info. In the email field type your full Google Account (ie. your Gmail). Leave the "Domain" field blank and type enter again your full Google Account as "Username" and your password as a password, obviously. Tap "Next". If "Unable to Verify Certificate" apperas just tap "Cancel" and in the next screen enter m.google.com in the "Server" field. Tap "Next" and select the services you'd like to sync and "Keep on my iPhone". (Hint: Google Sync supports Push notifications.)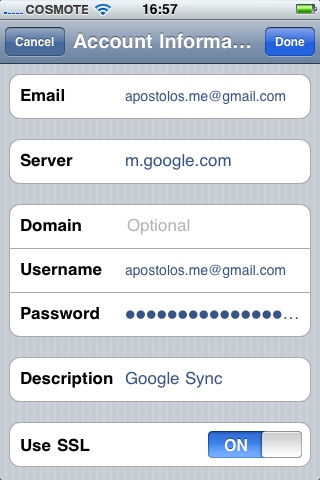 — Now, you have successfully enabled OTA syncing for Google Calendar and your iPhone. Time to setup Google Calendar in iCal, don't you think?
Setup Google Calendar in iCal
Fire up iCal and hit the Preferences (cmd+,). Navigate to Accounts tab and click "+". In the pop-up enter your full Google Accounts username (email) and password. Under "Server Options" enter the following https://www.google.com/calendar/dav/YOUREMAIL@DOMAIN.COM/user Of course, replace with your email. Leave "Kerberos bla bla" box unchecked and click "Add". Your Google Calendar will now appear in iCal's list of calendars, and changes you make to your Google Calendar in iCal will be reflected almost instantly. Event information will automatically refresh every five minutes. You can change this interval by opening the iCal > Preferences > Accounts menu and selecting a new refresh interval under the 'Refresh calendars' drop-down. Otherwise, you can simply hit cmd+r to refresh manually. There's no API limit or something.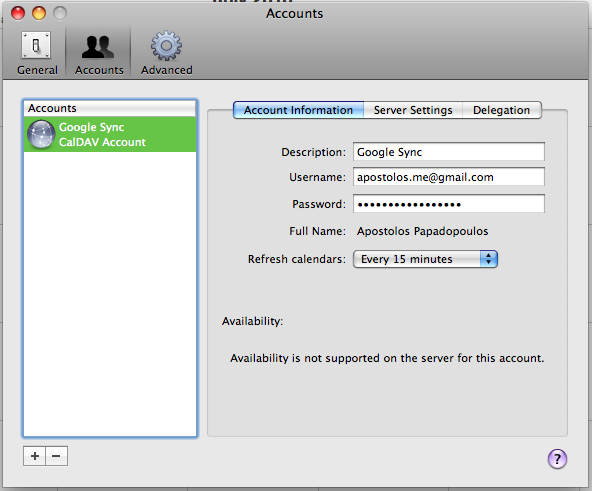 Thanks to @diab for his initial help with this.
Questions? Feel free to comment.