Quick thoughts on iOS 4
Yesterday, Apple gave us the iOS 4. Yesterday late night, I was testing it. Today, I'll write about it.
I updated through iTunes only after backing up my contacts and syncing them with Google. Now, I don't think I'll sync again with Google, because Gmail's contacts are now mixed with my phone contacts. That's silly. Really, silly. The positive is that now, I have backups from both Gmail and phone contacts.
The download of the new OS was fast enough and I didn't have to wait that much. This is good. The installation took a little more than (I) expected, but as soon as everything's okay I don't mind it.
First feel
The first feel was like "superfast". Give me speed. Yes, Apple give us more speed. When you swipe trough springboard & the home screens you feel like it's a brand new phone. It feels uber fast. There's also this new homescreen and lockscreen background that adds to this feeling.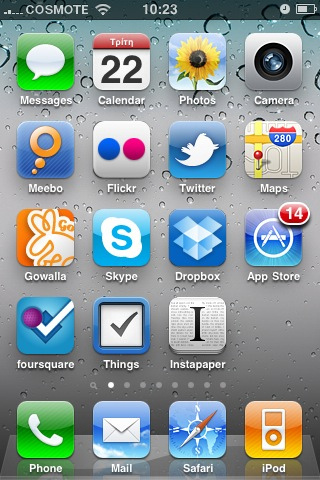 First changes
First of all, Apple changed the icon graphics. Many of the icons have received very subtle tweaks that suggest Apple has done a complete re-drawing of the icon set, potentially for higher-resolution displays. The changes have in many cases added sharper lines to prior designs, such as the gears of the Settings icon and the rays of the Weather icon's sun, but have also in some cases increased the color or contrast of small details in the icons.
Also, there's this new dock that resembles the one found on the iPad, complete with icon reflections.
Multitasking
Probably iOS 4's most awaited feature. I have to say that it's awesome. With a double-tap of the home button the dock becomes a dock for already-running apps — whether you're into another app or just swiping through your homescreens. There's also this new fast app switching feature. It's something like that: the "state" of the app stays in RAM but the app is technically suspended. That way it loads up faster than having to execute the app again from NAND Flash and loading to RAM and reading a saved state, also from NAND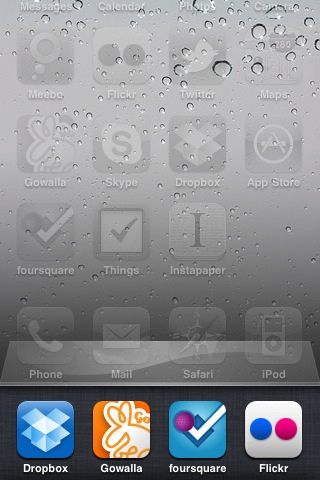 Folders
Yeah, Folders! Everyone was so super excited about this but me. Anyway, it's pretty cool I guess. But, personally, I don't think I'll use it. Just tap onto an app, hold so they start bouncing and then drop the app onto another app. iOS instantly combines them into this folder and names it automatically with the category of the apps. Could become handy, but not for me.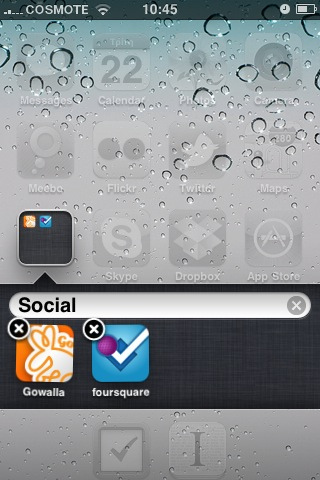 The iPod
iPod has also changed; for the better. You can now add/edit/delete playlists right from your phone. The contents of albums are now displayed by the iPod application with extra duration, release date, and artist information, plus a shuffle button and album art.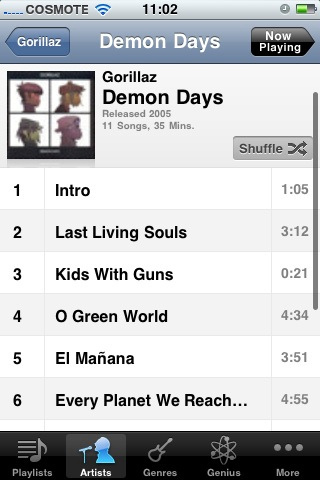 Camera
We've got digital zoom dudes & girls! This is big news! You can pinch or tap-and-hold to activate the digital zoom feature, and a slider appears on screen to let you set the zoom level. There's also tap-to-focus ability to video recording. This is whoop whoop! (click on the screenshot to see it's real size — 768 x 1024, that's big and I like it!)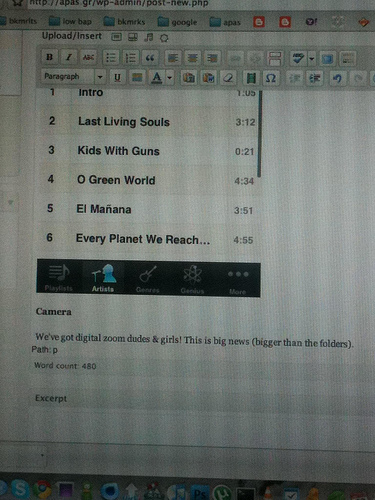 Other cool stuff
There's been added Greek Voice control. That's cool and I like it (though, haven't used Voice control since the first day I got the iPhone). Also Location Services have been expanded to turn off or on specific applications' access to GPS data. Additionally, Notes now supports wireless syncing with multiple accounts. Syncing appears to be supported for any IMAP-based Mail account, rather than being a MobileMe-specific feature. That's also cool. There are also new features in the Photo.app. There is the Places tab, which show geo-tagged where you snapped the photos. People say that there's also a Faces tab & a rotate-photo option, but it seems that I don't have them.
Verdict
Well, iOS 4 rocks big time. It feels like a new iPhone. It's not just another update. It's a whole new concept of the iPhone. If I were you, I'd stop by now reading this post and start updating. Despite I was with a jailbrake (only because of the SBSettings app — a cool home screen addon, like a dashboard), I updated and I do not regret it. You should do.
Update. Now.