Personal gadgets I can't live without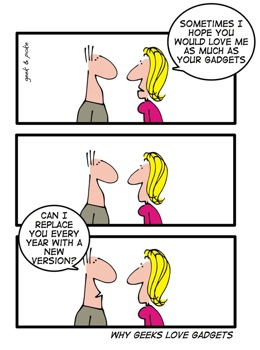 Gadgets. I can't live without these small and beloved devices that do make mine — and yours — everyday life easier. Here's a list of my favorite gadgets that help me a ton every day and  I can't do without.
iPhone
The re-invention of the mobile phone. I finally, bought the iPhone 3GS in August 2009. At least, waiting two years for it did worth. I check and reply on mails on-the-fly, use it as an iPod, surf the web, twitter, take photos (since I do not have any standalone camera). It really worths the dough I am paying for it. And because of it, I was able to cover via live-tweeting-on-the-road the 2009 Riots in Greece about the murder of Alexis Grigoropoulos.
Turbo-X Topnote netbook
My main laptop. I use it as a desktop replacement and suits me the best — well, almost. Travelling, heavy use, office work and portability. I travel a lot, hence the plus here. Despite that I want to change it for a Macbook Air, it still rocks and I want to keep it too. The wow-factor is that I can multitask a lot, regardless the not-so-powerfull CPU it has. But always the key is to have the right software.
Toshiba S10 Camileo HD Videocamera
It is said, by Engadget to be the Flip killer. Whatever the bussiness plan for Toshiba are, I know that this little piece of technology rocks very hard. With just the size (and smaller) of my hand, the cost — which is about 130 Euros and the ability to record Full HD 1080p, make it the best price/performance HD videocamera out there. I use it for the Fight The Line project, a homemade ski movie with great friends.
Western Digital Elements Portable 320Gb, external HDD
I bought it last Christmas from Plaisio. At a price that I do not remember — but I do remember that was very good and affordable — something around 70 to 80 Euros. The disk goes along with the netbook and it's plugged in it 24/7, carrying data that need to be with me when I'm out of or even at home. Music, movies, photos, office work, personal projects, etc. It fell off me, twice, but hopefully survived. Kudos, Western!
What are your favorite gadgets that you can't live without? Feel free to comment and start the discussion.